Jim Haynes: A man who invited the world over for dinner
Jim Haynes was both an icon and a relic of the Swinging Sixties, an American in Paris who was famous for inviting hundreds of thousands of strangers to dinner at his home. He died this month.
Last February, I took my last trip abroad before lockdown closed in on us. I bought a last-minute ticket and jumped on the Eurostar to Paris, motivated by a sudden urge to have dinner with a friend. Jim Haynes had entered his late '80s and his health was declining, yet I knew he would welcome a visit. Jim always welcomed visitors.
The essence of that trip now feels like the antithesis of Covid times. I was far from the only guest wandering into the warm glow of his atelier in the 14th arrondissement on a wet winter's night. Inside, people were squeezing, shoulder to shoulder, through the narrow kitchen. Strangers struck up conversations, bunched together in groups, balancing their dinners on paper plates and reaching over each other to press the plastic spout on a communal box of wine.
Jim had operated open-house policy at his home every Sunday evening for more than 40 years. Absolutely anyone was welcome to come for an informal dinner, all you had to do was phone or email and he would add your name to the list. No questions asked. Just put a donation in an envelope when you arrive.
There would be a buzz in the air, as people of various nationalities - locals, immigrants, travellers - milled around the small, open-plan space. A pot of hearty food bubbled on the hob and servings would be dished out on to a trestle table, so you could help yourself and continue to mingle. It was for good reason that Jim was nicknamed the "godfather of social networking". He led the way in connecting strangers, long before we outsourced it all to Silicon Valley.
I only knew Jim in his later years, but his entire life was extraordinary. Born in Louisiana in 1933, he had lived in Venezuela as a teenager; founded the alternative culture centre Arts Lab in London, where he mixed with David Bowie, John Lennon and Yoko Ono; ran a sexual liberation magazine in Amsterdam, and all before becoming a university lecturer in sexual politics in Paris, his home since 1969.
And yet he was often seen as a son of Scotland, following an influential stint there in the late '50s and late '60s, when he established Edinburgh's first paperback bookshop, co-founded the Traverse Theatre and helped kickstart the Fringe festival.
When Jim died, at 87, earlier this month, a Herald obituary called him "the unofficial agent for the beat generation in Scotland".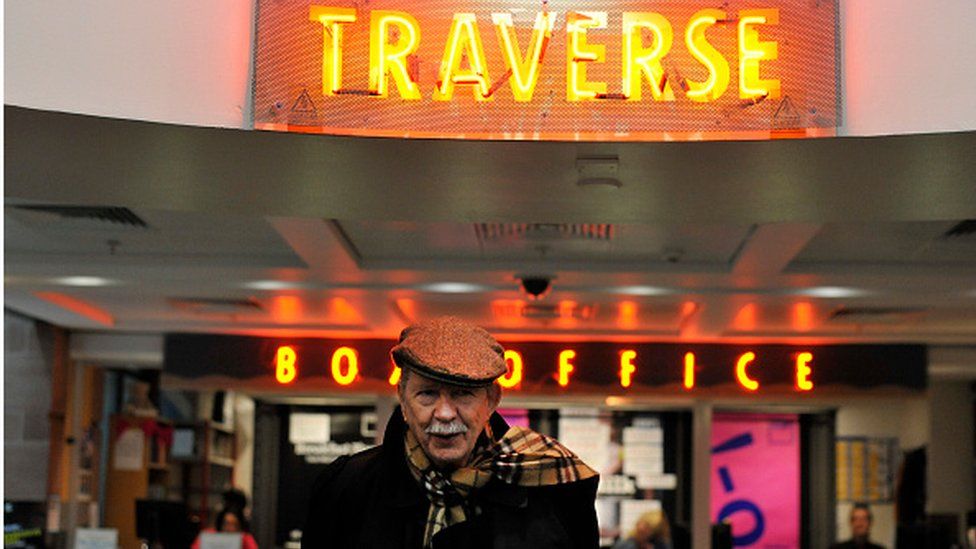 IMAGE COPYRIGHTGETTY IMAGES
While a lot of highly regarded people tend to retreat into their own circles after finding success, Jim never stopped reaching out to new people. The first time I heard from him was an email out of the blue in 2008.
I had written a newspaper article from Barcelona - not the one in Spain but the one on the coast of Venezuela - and it had brought back memories for him. His father worked in the oil business and had moved the family there when Jim was in his early teens.
My article was about meeting people through the Couchsurfing website, where locals opened their homes to strangers for free around the world. This was before AirBnB worked out how to monetise the idea, and the concept of non-commercial cultural exchange was right up Jim's street. "When you are back in Europe, come to dinner," he wrote, promising to tell me about an old travel project of his own that he thought I might like.
Intrigued, I headed to Paris soon after my return. I had imagined some sort of intimate dinner party with cultural elites, but what I found was more like a student house party - albeit with more mature attendees and only moderate alcohol consumption. (Jim was teetotal and proceedings ended strictly by 23:00.)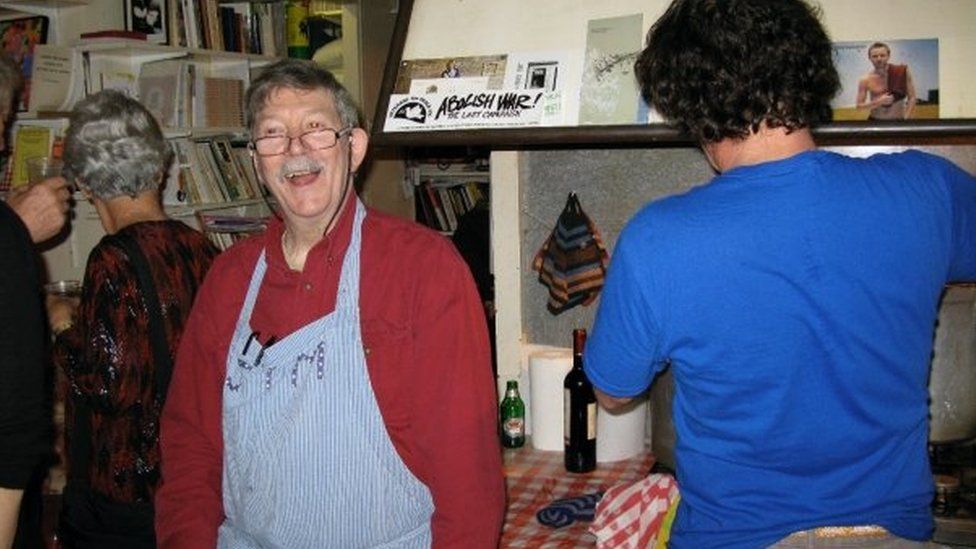 IMAGE COPYRIGHTVICKY BAKER
image captionJim never cooked himself, instead he invited guest cooks
Jim instantly greeted me like an old friend and, as we chatted, he reached up on to his living room shelves to offer me a book. People to People read the cover line. It was the project he had wanted to tell me about.
He explained that, in the late 1980s, he had founded a guidebook series for countries behind the Iron Curtain. Instead of the standard descriptions of sights and hotel listings, the format was like an address book, including the contact details for hundreds of in-country hosts. The idea was that if people could not easily see the Western world themselves, he would bring it to them via travellers. It was "couchsurfing", but offline.
The hand-sized copy he pressed into my palm centred on Poland. I loved it and decided to travel there to see if the participants were still up for receiving random visitors, even though so much had changed.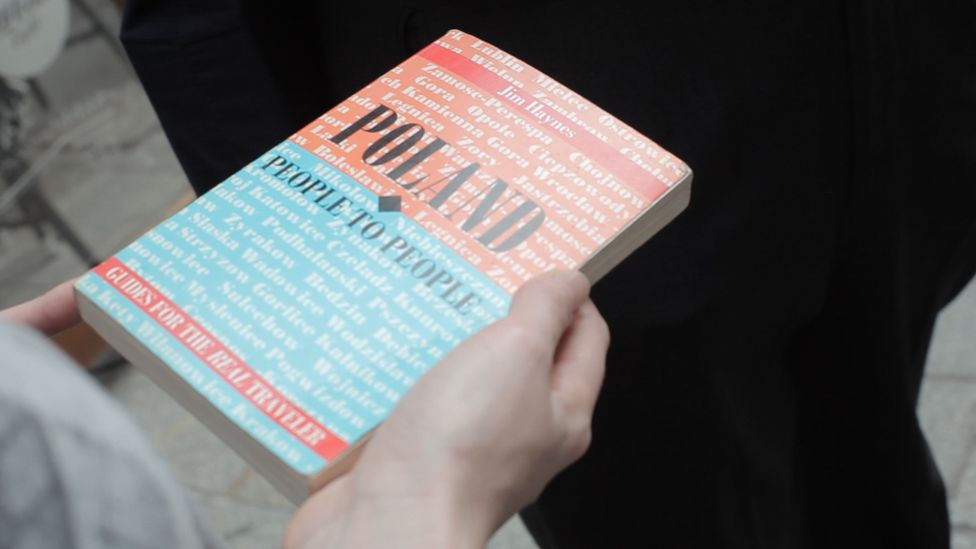 IMAGE COPYRIGHTDAVE DEPARES
image captionJim created the People to People guidebooks for multiple Eastern European countries
Each person was filed under the town they lived, followed by two or three lines, including their address, date of birth, phone number and hobbies. Through a combination of Google and snail-mail, I managed to get hold of several of them. Most had all known Jim either personally or through friends of friends. All had fond memories of the project and all were still willing to act as local guides to show me around.
In Gdansk, I asked civil servant Krystyna Wróblewska why she had signed up originally. She told me she had been working as a media fixer, helping reporters cover the anti-communist shipyard strikes. "They [the media] went looking for women with handkerchiefs on their heads and horses with carts, perpetuating the same old picture. I suppose I wanted to meet people to subvert stereotypes and show that not all the pictures you have in your head are real."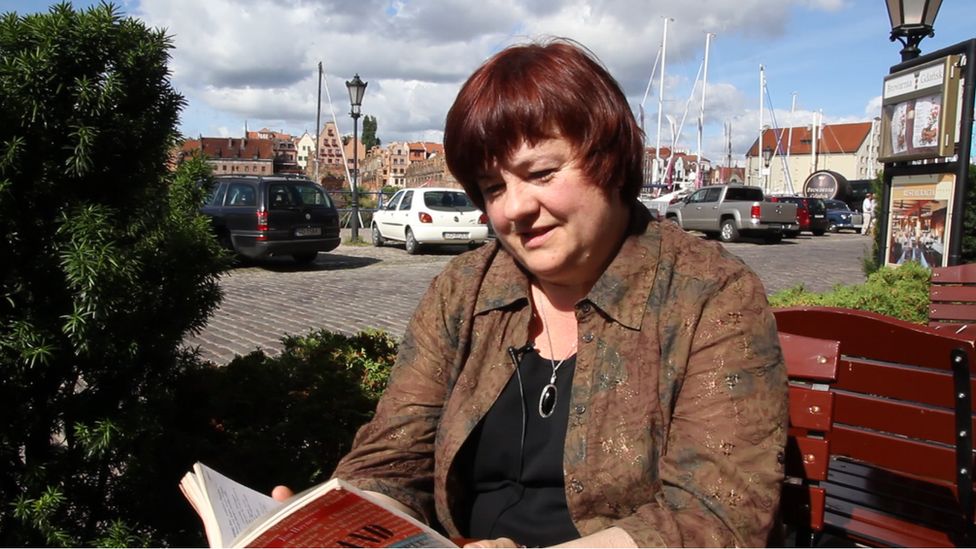 IMAGE COPYRIGHTDAVE DEPARES
image captionKrystyna Wroblewska signed up in the late 1980s to show travellers around Gdansk
"It surprised me how easy it was," Jim insisted to me. He produced guides for Romania, Czechoslovakia, Hungary, the Baltics and Russia, featuring thousands upon thousands of locals. Some of his contacts came from his personal, multi-volume address books, and he got new sign-ups after placing interviews in local papers and jazz magazines.
"Some of the older people in Russia were scared about being put on a Western list, because they thought it would be easier to be rounded up and carted away," he said. "But a lot of younger people wanted to be in the book… I was getting sackfuls of mail. I'm sure the local postman wondered what the hell was going on."
Over the years, the authorities often wondered what was going on at Jim's place. Not least during the period when he started issuing fake passports. It was back in the 1970s, after he had caught wind of an American traveller, who, 20 years before, had renounced his American citizenship and created his own "world passport".
For Jim, non-national passports seemed to encapsulate his ideals of peace and global freedom. So he turned his home into an "embassy" and started producing world passports for anyone who wanted one. The documents were so convincing that some people used them to cross borders.
"Look, you can't do this any more. You have to stop making passports," exasperated French police would say when they came to his door. But Jim continued until he ended up in court. Though he was eventually acquitted of fraud and counterfeiting, he was found guilty of "confusing the public".
Jim always dismissed the idea that it was a naïve undertaking, but he was trusting to a fault, according to some of his friends, and this led to financial mistakes and legal troubles over the years. He wouldn't deal with problems, waiting until they blew up instead.
"I often had to stop him signing things. Sometimes he didn't even read them," says Jesper, his son, who was born during Jim's marriage to Viveka Reuterskiold in the 1960s.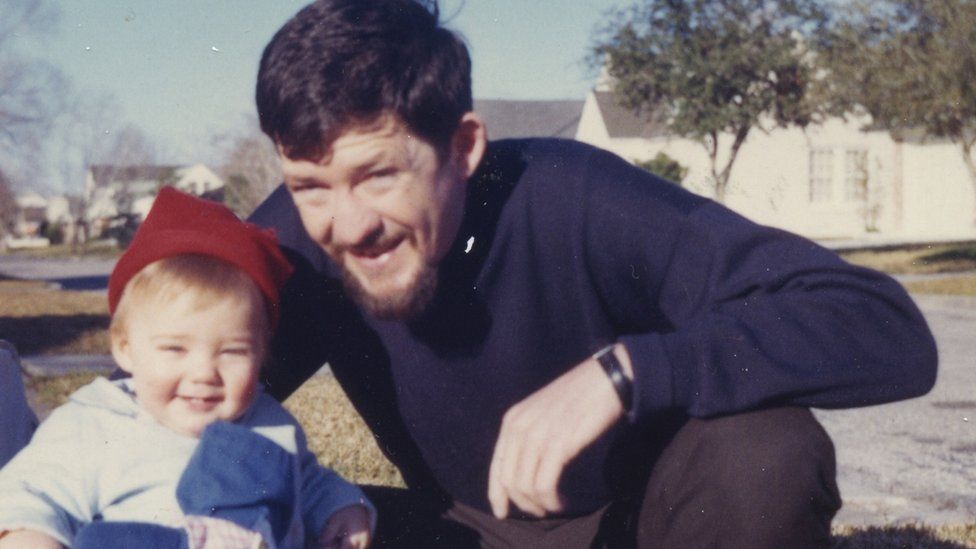 IMAGE COPYRIGHTVIVEKA REUTERSKIÖLD
image captionJim with his son Jesper
Jesper grew up Stockholm after they separated, but visited Paris every summer from the age of 10.
"There were mattresses on every spare bit of floor, people sleeping everywhere," he says, as he recalls his earlier visits. "It was exciting and fun, but sometimes I felt jealous. Lots of people did. People were very possessive of him. People wanted to claim him, but he was unclaimable."
Jesper credits his father with opening the world to him. He used Jim's contacts books extensively as he travelled and he is currently living with his own family in Bangkok, where he briefly replicated the Sunday dinners. "Just for six months... It was a lot of work."
During the 1990s, the crowds started to dwindle at the Paris dinners, as the original hippy crowd aged. But then a new wave of younger visitors started to get in touch. The bloggers had discovered him.
"The internet both ruined and saved the dinners," says Seamas McSwiney, a close friend who helped on Sunday evenings for decades. "It became less spontaneous as people tried to book six months ahead - which was anathema to how Jim travelled and also annoying as those people were more likely to do a no-show - but at the same time, these online articles re-energised the idea. There was a younger crowd and new momentum."
At the dinners' peak, Jim would welcome up to 120 guests, filling his atelier and spilling out into the cobbled back garden. An estimated 150,000 people have come over the years.
"The door was always open," says Amanda Morrow, an Australian journalist who stayed with Jim for a year-and-a-half. "It was a revolving door of guests - some who wanted to stay over, and others who just wanted to say hello. Jim never said no to anyone."
The only thing that really got Jim down was people leaving," says Jesper. "He struggled with that. He didn't like being on his own... Though fortunately there was usually a new person to distract him."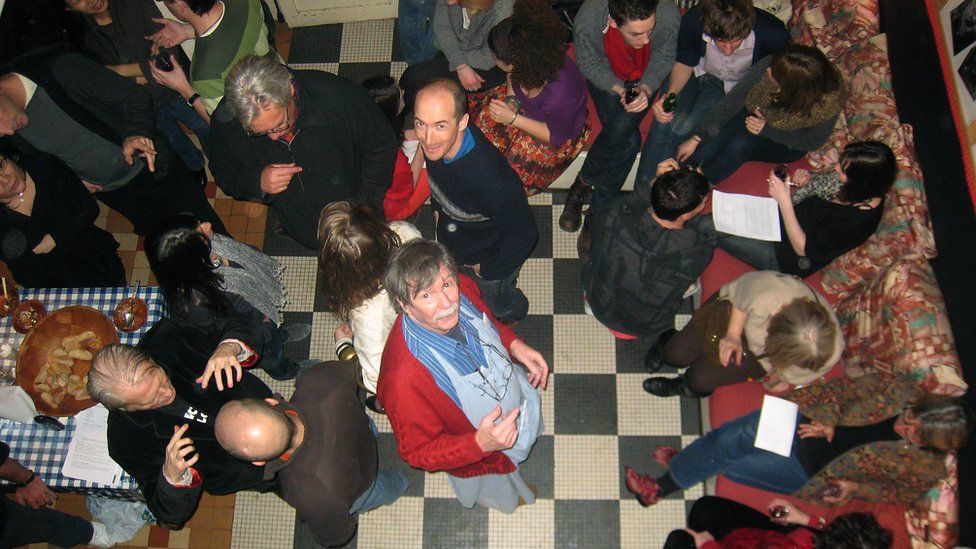 IMAGE COPYRIGHTJESPER HAYNES
In the final years, Jim would sit quietly, as others gravitated into his orbit. On my last visit, he looked frail and pained by his various ailments, but he also had an air of contentment, clearly never tiring of being the conduit for human interactions.
"I was wondering when you'd come back," he said to me, in the rasping American accent he somehow had never lost.
Here was a man who had spent time with Lennon and Bowie, who was once friends with Sonia Orwell and used to walk round Paris with Samuel Beckett. And yet he made everyone feel special. Every connection mattered.
"It felt like politician's trick, but it was natural," says Seamas.
In very recent times, Covid restrictions reduced the dinners' clockwork schedule, but his friends say he was not depressed by the pandemic. He had figured the get-togethers would resume and, until then, had enjoyed a smaller stream of visiting carers and, whenever possible, friends.
Amid the outpouring of online tributes since his death in his sleep on 6 January, these words from Jesper stand out: "His goal from early on was to introduce the whole world to each other. He almost succeeded."